Back to top
Main content
Do you have a great idea to tackle a common challenge in the North Sea region? Do you have a team ready that can hit the ground running?
Then we invite you to join the third call in the 2021-2027 North Sea Programme. 
In the first two calls, interest for funding has been especially intense. Due to limited remaining funds, not all categories are open.
The programme welcomes the following applications:
Full applications in all four priorities. Full applications must be based on approved expressions of interest or a rejected full application submitted in Calls 1 or 2.
Expressions of interest in priority 1.
Small-scale projects for priorities 1, 3 and 4.
The infographic below gives an overview of the project types you can submit in the four priorities of the programme.
Image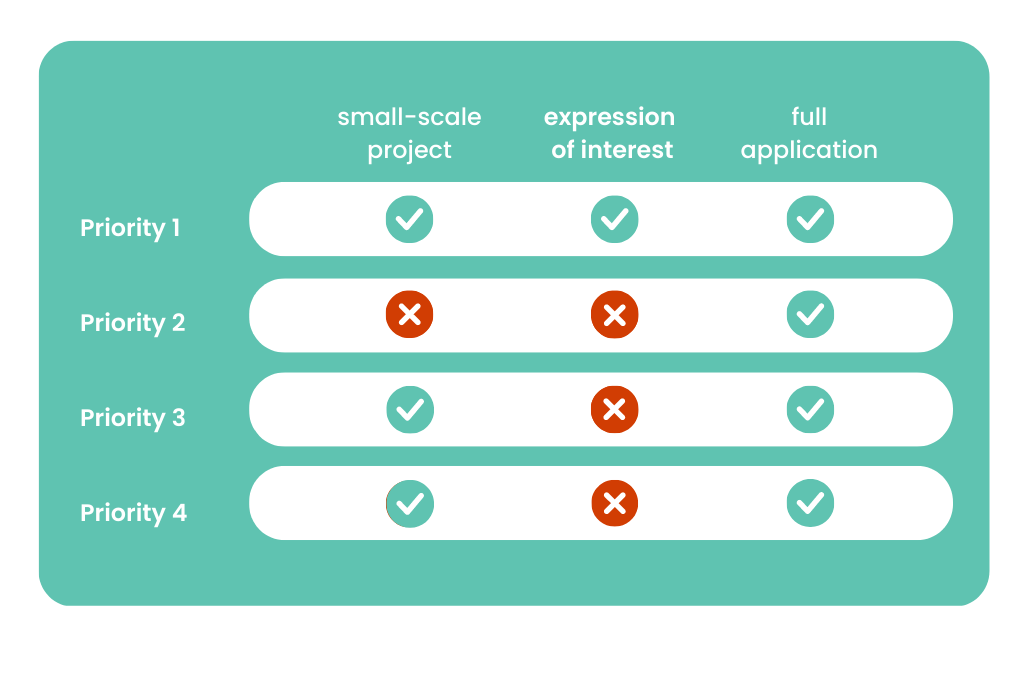 If you have been contemplating applying in a priority that is now closed, it might be worth considering how your project idea might fit under another priority or as a small-scale project. Feel free to get in touch with us to discuss these options. 
To get started read the guidance note of Call 3. In this document the most important rules and requirements for this call are described. 
A Get Ready! event took place in February to prepare for Call 3. The presentations of the event are a great source of information to prepare for Call 3.
All material of the day can be found here.
A summary of the event with key takeaways can be found here.
We highly encourage you to discuss your project idea with us and schedule a consultation to help you with your idea and learn what is important to a successful application.
Reaching out to your National Contact Point is always a good idea. They are ready to help with any questions you might have.
You are also welcome to contact our Project Advisors.