The SMALL project kicked off with a 3-day journey in the city of Ghent in January 2023. Come follow the first steps of this new transnational group of people working together to make shared mobility accessible to all.  
Image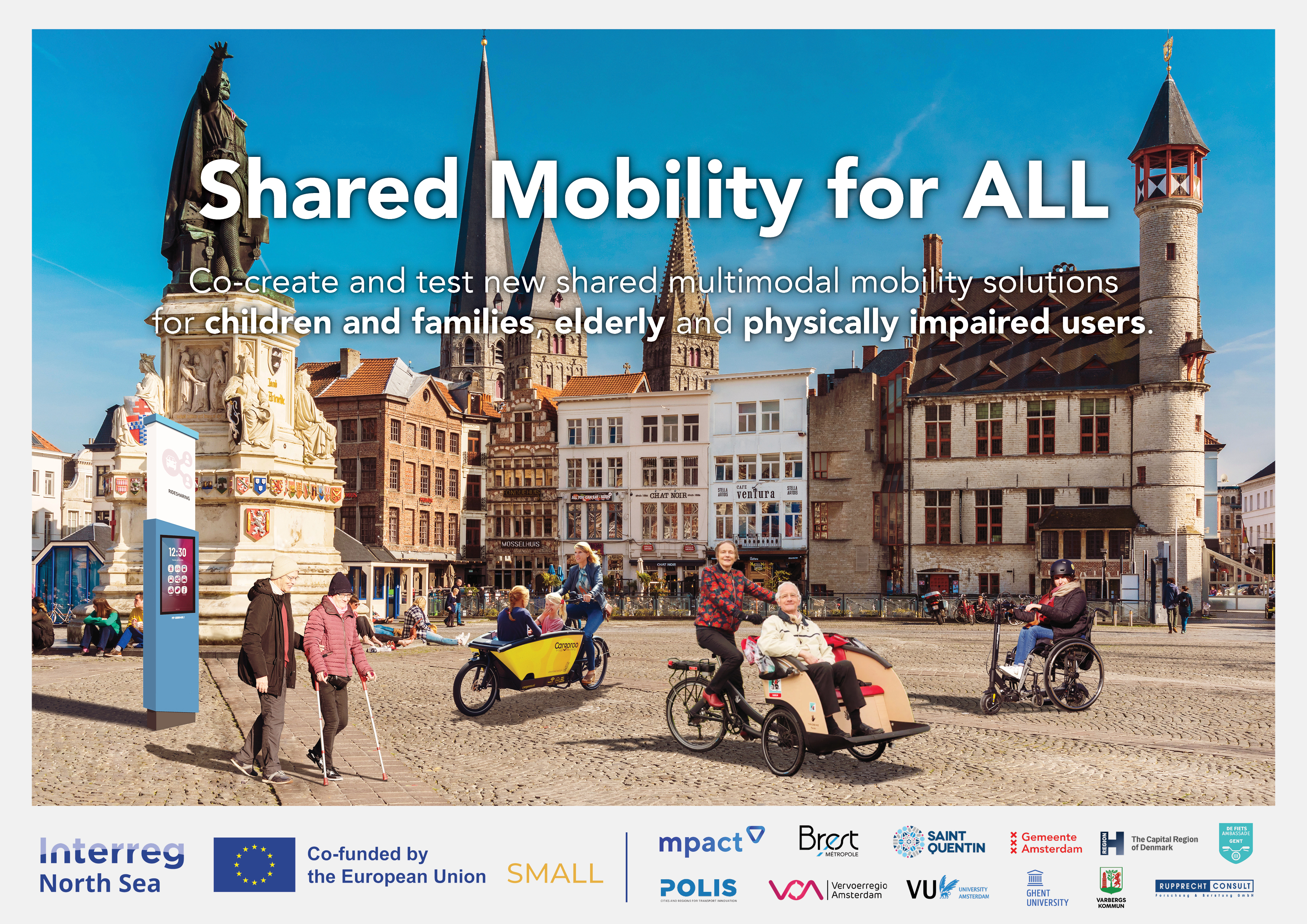 Shared bikes, scooters and vehicles are already transforming the way some of us move around the city. But these flexible and low-emission services are far from suitable for everyone. Gaps in design and policy mean that a large majority of these solutions are used exclusively by young urban adults; with children and families, the elderly and the physically impaired left behind. 
Led by Mpact, the new Interreg North Sea Region project 'Shared multimodal Mobility for ALL (SMALL)' aims to change this dynamic to ensure all can share these solutions. Through co-creation and by taking a people-focused approach, SMALL will explore how to make shared mobility accessible to children, families, the elderly and physically impaired people - part of a wider group classified as people with reduced mobility (PRM).  
In January, these new kids on the North Sea block came together in the inspiring city of Ghent (Belgium) for the first time as a full consortium. Curious to hear about how it went? Keep reading to find out! 
Image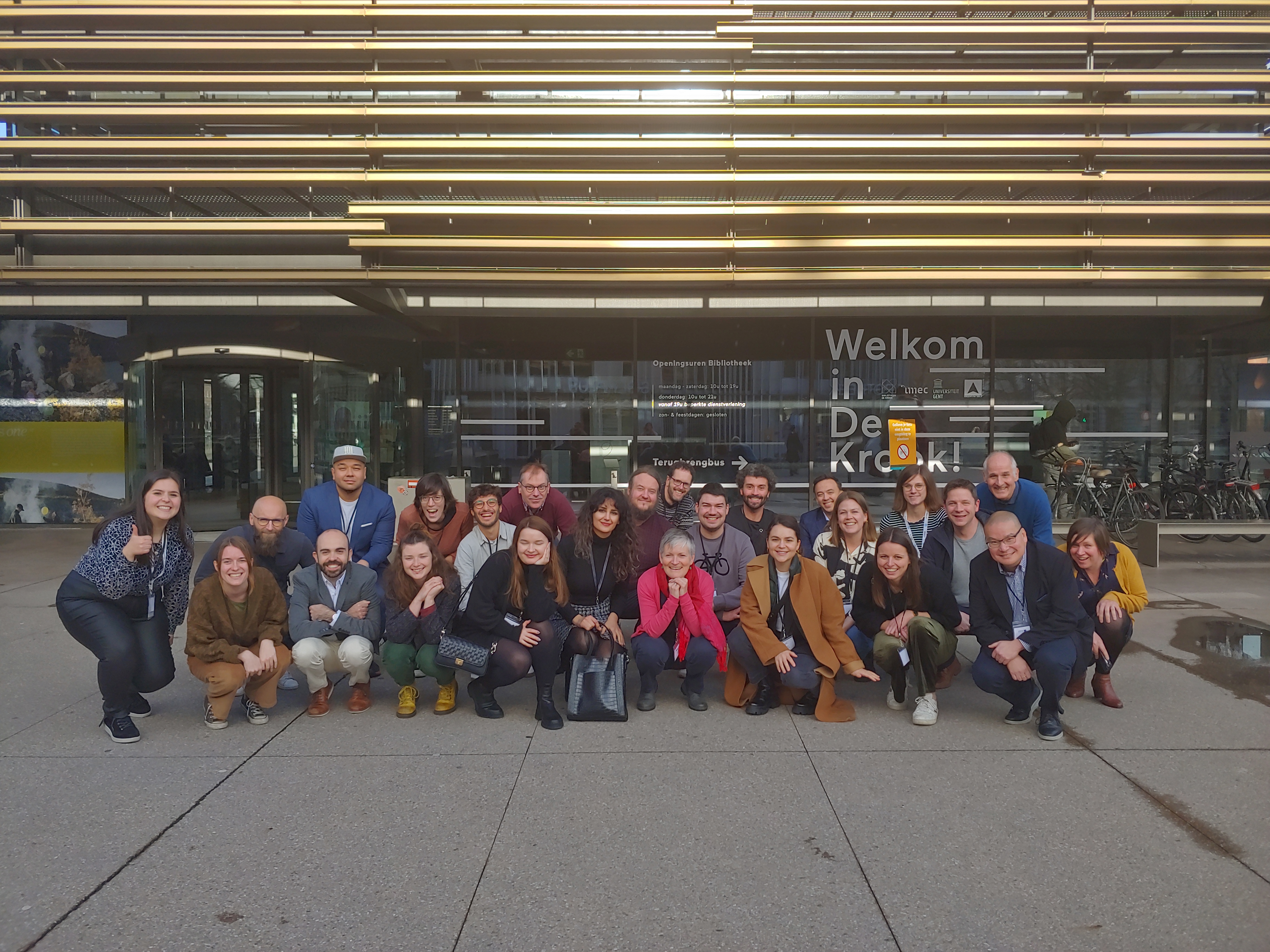 Image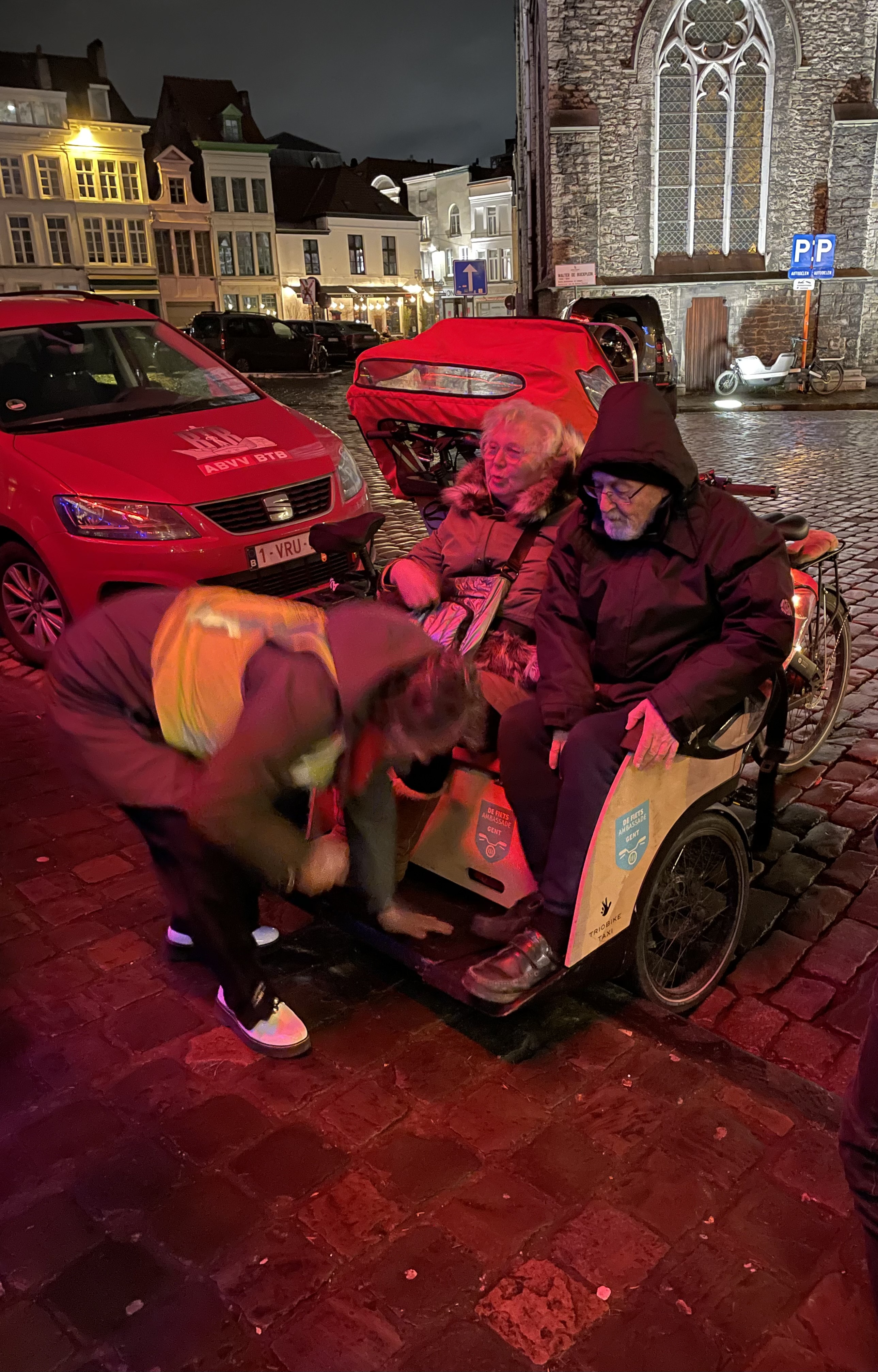 Starting a new project with new partners can be a shot in the dark. That is why SMALL's kick-off meeting had to be a moment of enlightening: getting to know each other and creating a constructive reality check about what needs to be done to successfully bring SMALL to life. Besides that, we wanted to be more than just a group of people doing SMALL talks about their curriculum vitae. And what better way to create a reality check than putting the partners together in a room with the end-users and local stakeholder organisations that we will work within our project?  
For the first informal event, we organised a 'network & movie' night where partners were introduced to the Trivélo service of De Fietsambassade in Ghent, one of our pilot partners in the project. Volunteers and users of this service, who are mainly less mobile and elderly people, were invited to have a chat and a snack at 'Trefpunt', part of the many cultural meeting places in the city. Besides that, relevant local stakeholder organisations were also present, such as the Flemish Elderly Council, Ditto vzw, Fietsersbond, and more.  
Together, we watched a documentary called 'Women don't cycle'. This movie follows the journey of a woman biking from Brussels all the way to Japan, exploring how cycling is experienced by women in the countries and cultures she visits during her trip.  
Image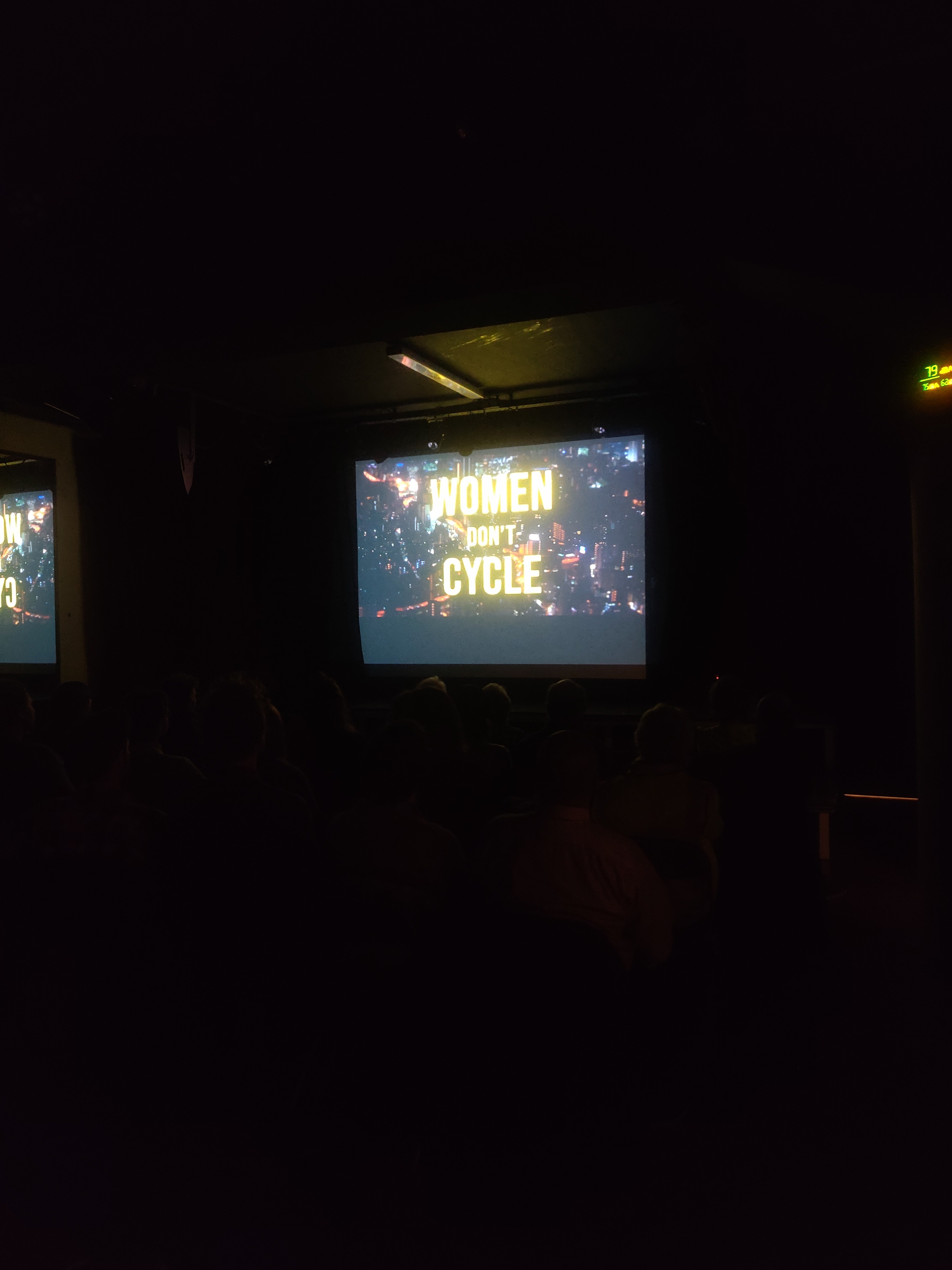 By the end of the evening, emails were exchanged, funny bike anecdotes were told, and the trivélo riksja's were tested by the majority of the participants.  
SMALL partners' welcome to reality? Check! 
After this successful informal event, it was time to get to the real deal: we will be partners in a 4-year project, to make sure end-users, who are often excluded from shared mobility solutions, get access to them in a seamless way.  
The official meeting started out with several activities to bring everyone closer together, such as sharing their best-shared mobility experiences on an imaginary NSR map.  
We then moved on to the SMALL values, values that we think will be of major importance in order to take this project to the next level. To sum them up: we aim for SAFETY in the project. We expect COMMITMENT from our partners. Last but not least, we strive for a 'NO-ASSHOLE POLICY': let's keep it professional and be nice to each other, shall we?  
Image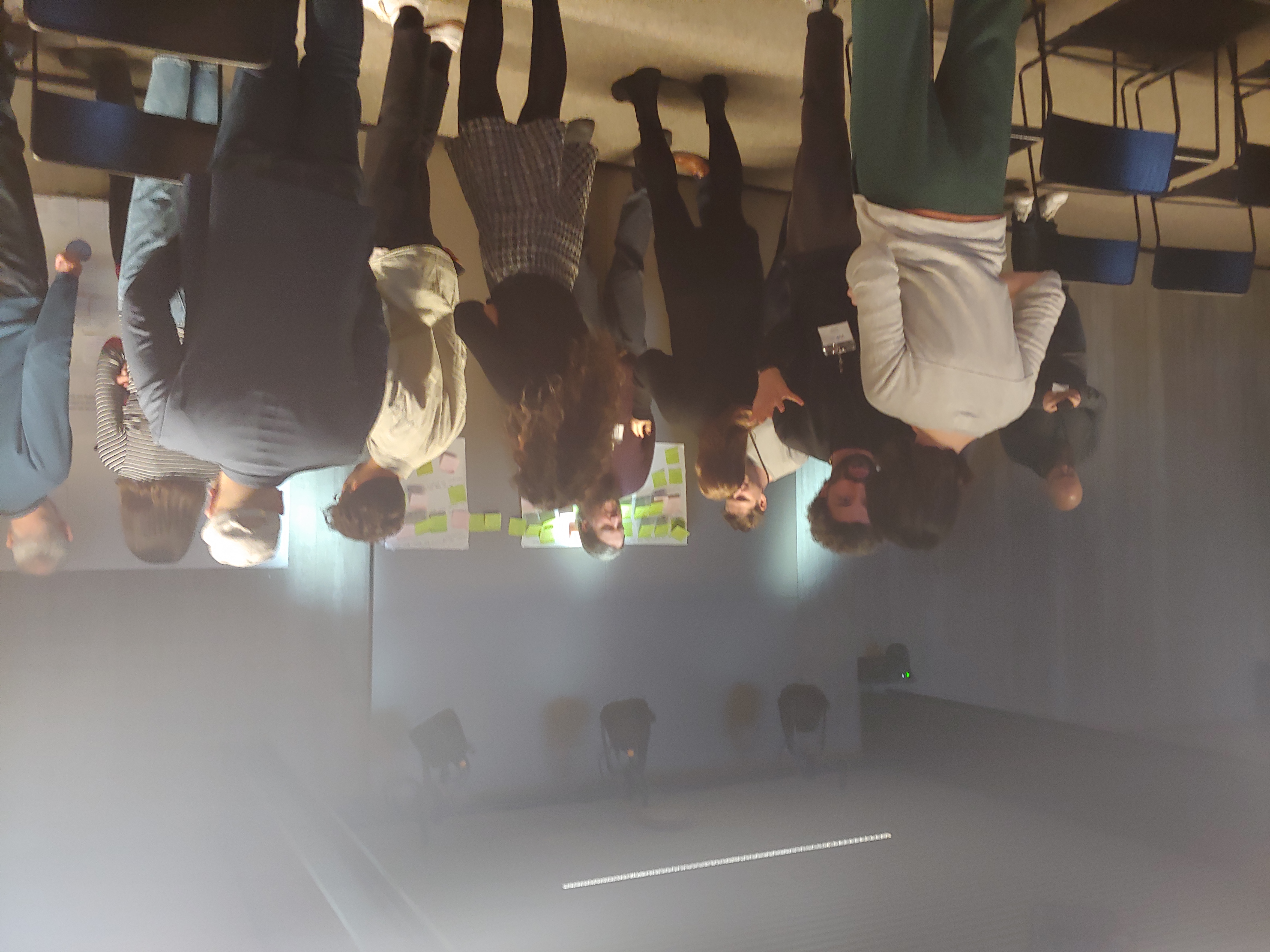 We then continued the first day with a presentation from Interreg on legal and administrative requirements, where Jesper Jönsson quite literally 'pushed up' to his limits to explain such requirements to the consortium. This was followed by pilot partners presenting their activities, a 'Rock'n SMALL' session on communication, and an interactive session on our first external event as a project!  
We ended this fruitful first day with a partner dinner at ENTR, a local restaurant with a multicultural and artistic vibe.  
SMALL partners informed about the project values and responsibilities? Check! 
On the second and last day of the meeting, we took a deep dive into the core vision behind the SMALL project: co-creation and engagement.  
Within our SMALL partnership, we are aware of the fact that PRM are not only often excluded from using certain mobility solutions, but they are also not heard: or at least we as mobility experts do not know how to hear from them. With this state of mind, every pilot is expected to organise at least three co-creation and engagement activities with their end-users. The SMALL research partners (University of Ghent, VU Amsterdam, and Rupprecht Consult) will provide the pilot partners with all the knowledge and tools needed to successfully deploy their pilot activities.  
Of course, we are aware of the fact that co-creation has been very popular in previous projects, but SMALL is not here to do what has already been done: We will build upon new innovation trends emerging in the North Sea Region, which can be classified in three categories: 
New vehicles and hardware innovations (good practice examples such as Omni Globetrotter and Benur)  
Supporting volunteering schemes to become an integrated part of cities' mobility systems, building on the 'Cycling without age' and 'Trivelo' initiative.  
Digital solutions that customise the passenger experience and provide additional information (e.g what vehicles are available to my needs and capabilities, what obstacles exist on my itinerary) 
Image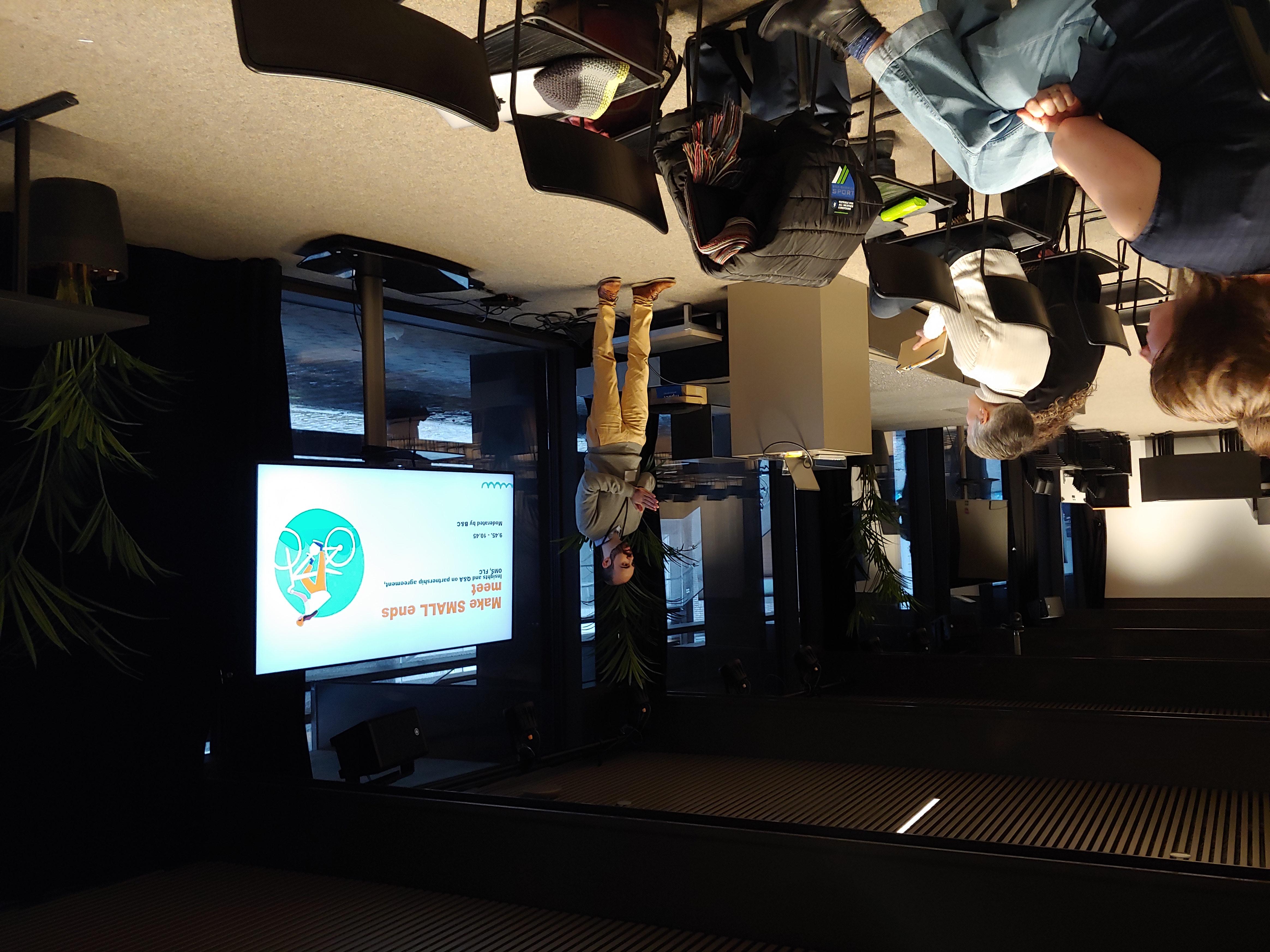 For the sake of keeping an eye on the social aspect of innovation, we will aim for frequent and correct evaluation of the co-creation and engagement activities within the pilots. By the end of SMALL, our objective is to ensure public authorities are aware that shared mobility systems need to be designed for and with all future users. Informed policymakers will then be able to use SMALL resources including case studies and policy guidelines to initiate change. 
In times of globalisation, pandemics, crises, and new (micro-)mobility solutions popping up like mushrooms, SMALL aims to stay in continuous conversation with how the market is evolving to ensure that mobility, which is a basic human right, is provided to all. Now more than ever, it is important that we keep on learning from each other on an EU level. SMALL aims to support the NSR vision towards a green transition with the next first steps: 
To begin with, partners will focus on structuring their co-creation process with the relevant stakeholders and end-users, and define a framework on how and why they want to interact. The objective is to create a transparent process to jointly create new shared mobility services, by understanding precisely the needs of the population and co-define with them their role and responsibilities in this project.  
To support this process, cities and regions can count on expertise and experiences within the consortium and will interact with additional external experts through a first roundtable, focused on the shared mobility needs of PRMs.  
As we advance and learn in our journey towards putting the user at the centre of shared mobility, we invite you to follow SMALL projects on LinkedIn to follow our insights.  
Project partnership: The City of Amsterdam (NL), Vervoerregio Amsterdam (NL), the Capital Region of Denmark (DK), De Fietsambassade Gent (BE), Brest Metropole (FR), the City of Saint-Quentin (FR), Mpact (BE), University of Gent (BE), The Vrije University of Amsterdam (NL), Rupprecht consulting (DE), Municipality of Varberg (SE) and POLIS Network (BE). 
Writers: 
Esen Köse (Mpact) 
Sami Angsthelm (Bax&Company) 
Editors: 
Caroline Tilleman (Mpact) 
Carlotta Inserra (Polis Network)