Main content
Image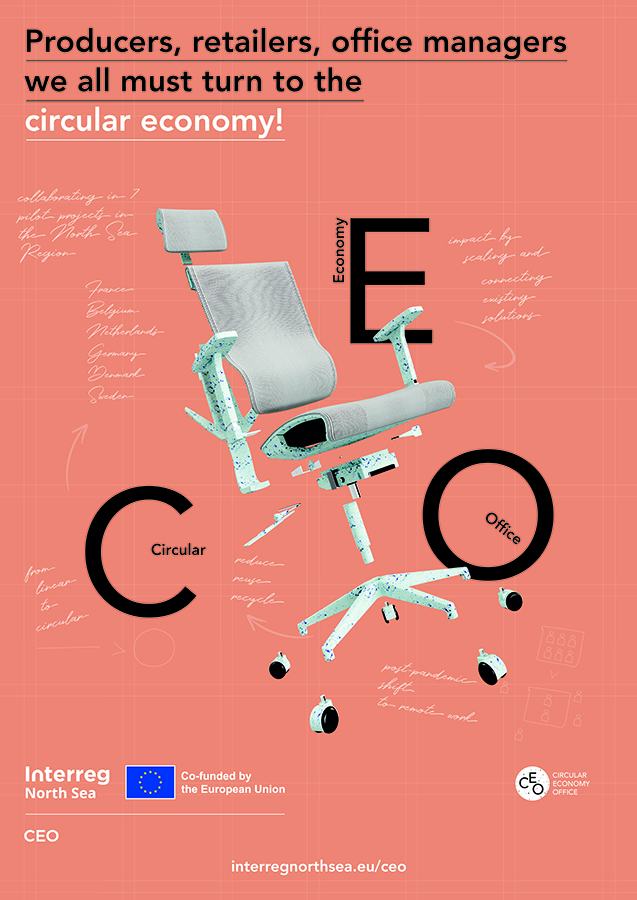 ABOUT THE CEO PROJECT
CEO focuses on the office furniture sector, which is currently characterized as a "take-make-dispose" industry. Every year, the EU discards 10.5 million tons of office furniture, with 80-90% of the furniture waste being incinerated or landfilled. The European market for office furniture amounts to approximately 9 billion euros. While circular models based on repair, remanufacturing, and reuse are increasing, they remain niche products. In 2021, 23% of newly produced office furniture was not recyclable, and 45% was only partially recyclable.
Another common challenge is that due to digitization, globalization, and the accelerated impact of the pandemic, work has become more flexible and hybrid, with new work principles gaining importance. The way we work changes rapidly and requries modularity, adaptability and recallability in product design to extend product life, reduce waste and make circular design the standard practice in the North Sea region.
The CEO project aims to address the barriers identified by the European Environmental Agency and partners, including limited collection and reverse logistics infrastructure, high repair and renovation costs, a shortage of circular office furniture to meet growing demand, and a lack of suitable upcycling services, business models, and knowledge on designing circular products.
The overall objective of CEO is to accelerate the office furniture sector's transition through transnational cooperation towards a circular, innovative, cost and resource efficient economy. By moving to scale, improving legal frameworks, introducing modularity and adaptability in product design, product life will be extended and waste reduced.
CEO implements 7 pilots that will test different aspects of the system approach to circular office furniture. E.g. procurement, skills and training, new working principles, digital tools, circular textiles, furnish a new office and circular business models .