Main content
Time to Innovate
Traditionally, responsible authorities apply a static approach to respond to such issues and pressures. This worked and still works well for their typical tasks, like water management. However, they experience that it is unfit to rapidly respond in a fast-changing environment.
To address this common challenge, some authorities are exploring new, innovative methods of working and introducing digital/smart solutions. Yet, they do so separately and only in larger cities, less so in rural areas.
There is a huge opportunity to share knowledge and experiences between countries and between urban and rural areas.
New Approach
Connected River aims to boost capacities of multi-stakeholder ecosystems to deliver services that guarantee safety, accessibility, and liveability of shared ww&wfs in the NSR. It will do so by bringing diverse partners and stakeholders together in 4 work packages for 6 pilot areas.
Components of the so-called Flow Forward approach are jointly developed and implemented on:
mobilizing multi-stakeholder ecosystems for user-centric, agile innovation

conducting user-centric, agile innovation on challenges that shared ww&wfs face

accelerating uptake of digital/smart solutions to improve services to stakeholders

Developing the playbook and roadmaps for a fit-for-future response to

challenges
Image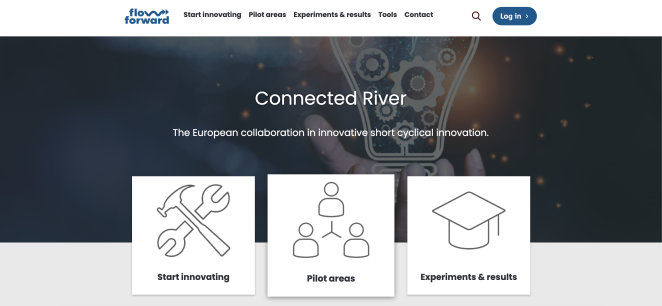 Flow Forward Platform
Based on the pilots' lessons learnt, CR delivers a playbook (strategy) to maximise uptake and transferability of the Flow Forward approach. This sets out the values, processes, and procedures for a fit-for-future response to challenges that shared ww&wfs face.
Connected River partners also make roadmaps on how to integrate the playbook into their innovation strategies.
Read more
Image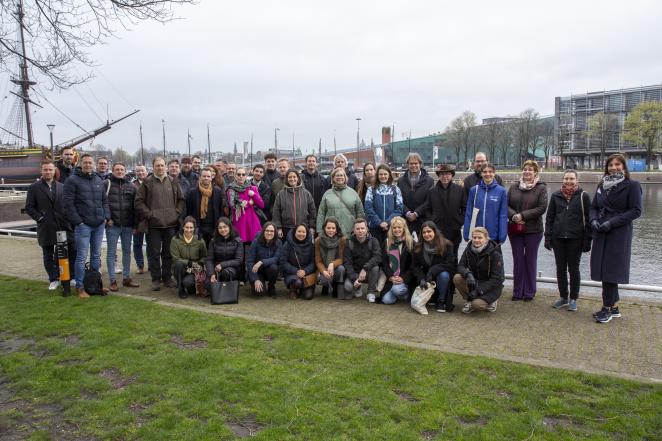 Team & Partners
To move the Connected River project forward a strong partnership has been established, comprising of:
Host Partners, that will be responsible for hosting and conducting the pilot projects
 
Approach Partners that provide expertise, methodologies
and a strong knowledge network
 
Solution Partners that will contribute business and subject knowledge to translate and accelerate the project findings
within the North-Sea region
The project consortium consists of 13 partners from 6 different countries (Germany, Belgium, Denmark, France, Netherlands & Sweden) and brings together scientific expertise, public authorities and economic actors.
Image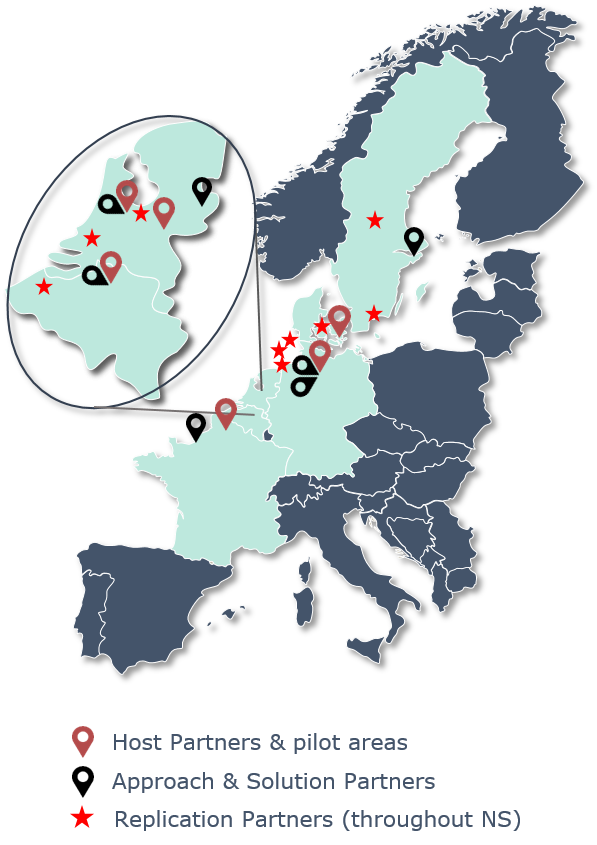 Host Partners
Rijkswaterstaat - Ministry of Infrastructure and Water Management (NL)

Hamburg Port Authority (DE)

Flanders Environment Agency (BE)

Municipality of Nijmegen (NL)

Port of Lille (FR)

Municipality of Vordingborg (DK)
Approach Partners
Antwerp Management School (BE)

Innovalor Advice (NL)

Digital Hub Logistics Hamburg (DE)

International Association of Cities and Ports (FR)
Solution Partners
EcoLoop AB (SE)

Logistics Initiative Hamburg (DE)

PortPay (NL)