In July, the Amsterdam IJ pilot team came together for a Design Sprint-workshop at the innovative Marineterrein in the citycentre of Amsterdam.
Image
How to use nudging in a maritime traffic management context?
Unexpected stormy weather changed the availability of some team-members, but still we were happy to carry out this Connected River-activity with some interesting outcomes.
In the months prior to this workshop key-users of the IJ-area were interviewed, such as ferry-skippers, inland-barge-skippers, owners of private boats and citizens living near the IJ. These interviews illustrated how users perceive the IJ and especially where and when they feel the IJ is unsafe. At the beginning of the workshop we shared the outcomes of these key-user interviews to make sure their perspective was central in our next step.
Image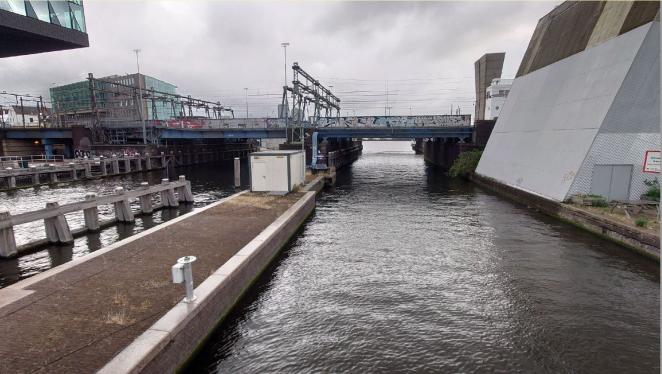 As a group we identified 10 hotspots in these interviews, locations or circumstances on the IJ in which safety is not optimal. We ranked them in order listing the hotspots with the best opportunities to work on them within Connected River highest. "Passing the exit at Oosterdok" was the clear number 1 hot-spot. It is a waterway connecting the canals of Amsterdam with the IJ, which is underneath the railways at Amsterdam Central Station and therefore quiet long and narrow.
Large rivercruises at the IJ make it even more complex to see what the traffic situation is when entering the IJ. Small inland barges use this route to enter the IJ, but also private boat owners with little or none navigational devices.
Image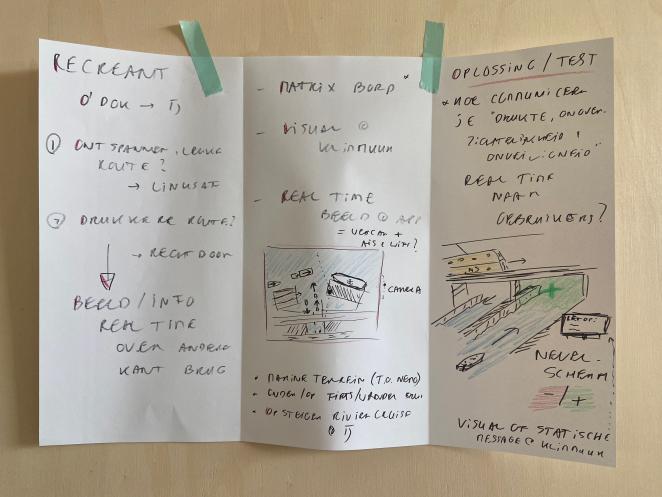 After defining the hotspot, we challenged which users we could help with innovative solutions in this specific site. Our focus became the private boat owners cruising around in the canals and intentional or unintentional ending up in the exit Oosterdok entering the IJ. Part of the Design Sprint was to come up with wild ideas and crazy solutions, which could be used to build feasible concepts.
Our shared belief at the end of the session was that in many cases private boat owners can be persuaded to choose a different route and thereby avoiding the Oosterdok exit: nudging. The main concept and result of this Design Sprint is to install multiple signs on the waterways towards the Oosterdok exit in which alternative routes or destinations are framed, instead of signs warning for a certain danger:
"Heading west?
Have you tried the route via Central Station before?"
"Have you visited the Amsterdam Zoo?
Take a right here"
Monitoring what the effect of these signs is based on traffic data is part of the experiment. Our next step is to design the signs and monitoring system and prepare for a live experiment near the Oosterdok-exit.
The Design Sprint was very well facilitated by Tom van Arman, innovator at the Marineterrein Amsterdam.
Would you like to know more about the outcomes? Please get in contact with the Amsterdam IJ pilot team.
Project Partner: Rijkswaterstaat
Source: Jelmer de Lange I Rijkswaterstaat