Back to top
Submit your application until June 30 17:00 CET.
Do you have a great idea to tackle a common challenge in the North Sea region? Are you ready to test solutions or keen to put a strategy into practice?
We invite you to submit your applications for Call 3 of the 2021-2027 North Sea Programme.
The programme welcomes the following applications:
Full applications in all four priorities. Full applications must be based on approved expression of interest or a rejected full application submitted in Calls 1 or 2. 
Expression of interest in priority 1.
Small-scale projects for priorities 1, 3 and 4.
The infographic below gives an overview of the project types you can submit in the four priorities of the programme.
Image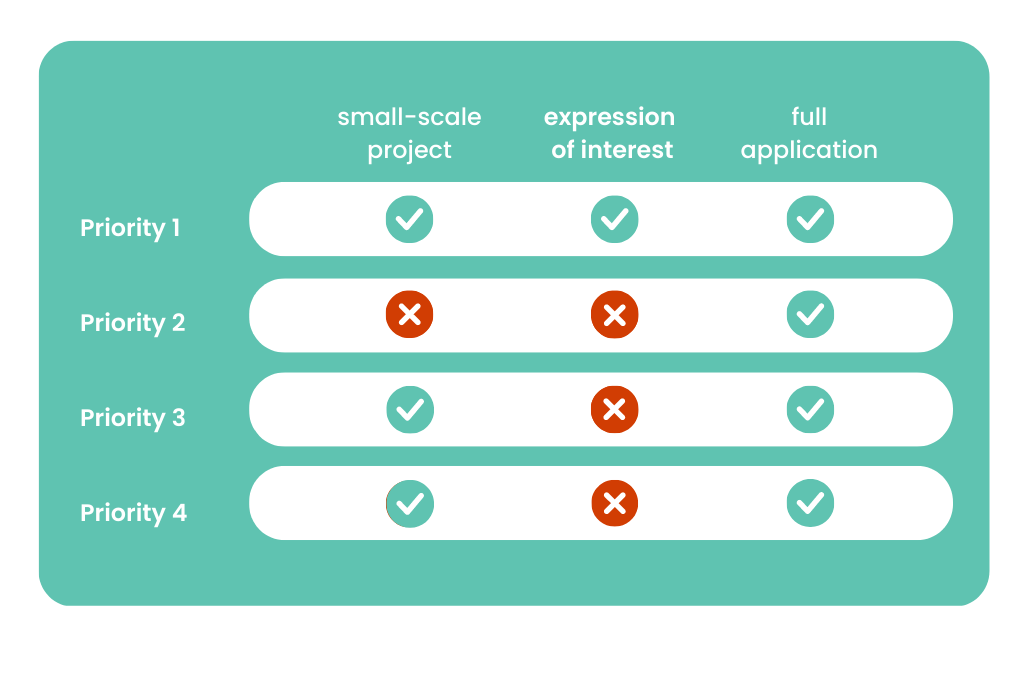 Not all categories are open due to the limited funding remaining after two calls that attracted an overwhelming number of high-quality applications. You can find an overview of the successful applications in Call 2 here. 
If you planned to submit an application in one of the categories that is now closed, we hope you will consider a possible fit in priority 1 or a small-scale project in priority 1, 3 or 4. We will gladly discuss the options with you. 
Norwegian partners can only join one type of application in this call, namely an expression of interest in priority 1. There will be some limited funding in Call 4 for Norwegian partners to join full applications. Find more information here and in the guidance note. Norwegian organisations cannot join small-scale project applications or full applications in Call 3.
The guidance note is now available. In this document the most important rules and requirements for this call are described. You can find information about the remaining funding per priority, expected achievements of successful projects, and the background of the call.