Back to top
e-OFFH2 : e-maintenance and support of Offshore green hydrogen production
The goal of the project is optimize remotely the efficiency and durability of offshore electrolyzers for the production of hydrogen in wind farms by scheduling their maintenance in conjunction with that of wind turbines . This will yield a planning tool and a e-maintenance and support module that allow malfunctionning detection in real time and optimal prognosis with remote access. Hence, the remote maintenance center will embed a decision tool based on a digital twin (physical based model) and will take appropriate action from the signals delivered by on-board sensors, previous data from wind farms, and a degradation model of electrolyzers in marine environment.
Our skills are multiphysics system modelling, diagnosis, prognosis and control. We already have a model for diagnosis and dynamical behavior of EL , albeit not in marine environment, from a previous Interreg 2 seas (E2C) project.
Of course this will project will fit the digitalisation framework.
TNO Delft (NL) agrees to be a part of the consortium for electrolyzers characterisation.
 - Laboratory or institute working on Electrolyzers degradation
The partner will conduct researches on the evaluation of long-term membrane and EL degradation under conditions that replicate saline/marine environment and will work in conjunction with TNO. A next step consists of finding membranes and general configuration with improved durability.
- Wind farms operators able to supply data / (e.g. already having a maintenance center for turbines)
Image
Image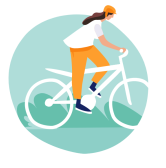 PROJECT IDEA OWNER:
University of Lille / Laboratory CRISTAL
Jean-Yves Dieulot
France
Higher education