Back to top
Lead
Increased sales of local food products can create rural jobs, help communities to thrive, and support more sustainable food systems. The REFRAME project discovered a staggering 100 ways to support SMEs to grow local food markets.
Main content
The REFRAME project discovered a staggering 100 ways to support SMEs to grow local food markets.
By choosing local food products, you can support local jobs and a positive development in your own community. You can also help keep air pollution and greenhouse gas emissions down by minimising transport. In turn, you will get fresher and healthier products as there will be less loss of quality along the supply chains. 
However, putting more local products on the supermarket shelves is not that easy. Small-scale producers are struggling with volume, pricing, and logistics. These are obstacles hard to overcome by the individual producer alone.
In REFRAME, partners from Belgium, Denmark, Germany, the Netherlands, and Sweden worked together to overcome the challenges. Five years on, they are able to show an impressive range of viable solutions.
Consumers increasingly care about the environmental impact and healthiness of their food. Rural food-related SMEs are uniquely qualified to address these concerns. 
In response to consumer demands, the hypermarket chain ICA Maxi had decided to increase their sales of local food. Therefore, in 2017, nine ICA Maxi stores and the Federation of Swedish Farmers joined forces with REFRAME to bring the vision to life in West Sweden.
The supermarkets created marketing, while REFRAME identified suitable producers. REFRAME also helped SMEs meet the stores' demands through sales training, coaching, and mini fairs where the SMEs presented their products for invited buyers. As a result of these efforts, ICA Maxi stores tripled their sales of local products in just three years.
One of the small-scale producers supported by REFRAME is Sofia Kvist, who runs AkSe Gårdsprodukter. A teacher during daytime, she produces carrots in her spare time together with her husband since 2016.  At first, they delivered to one ICA store. In 2018, this number had grown to 15 stores.
REFRAME enlisted designers and ad agencies to strengthen the SMEs' market communication. Sofia received help with the design of a new logo and new bags, which increased her sales.
Image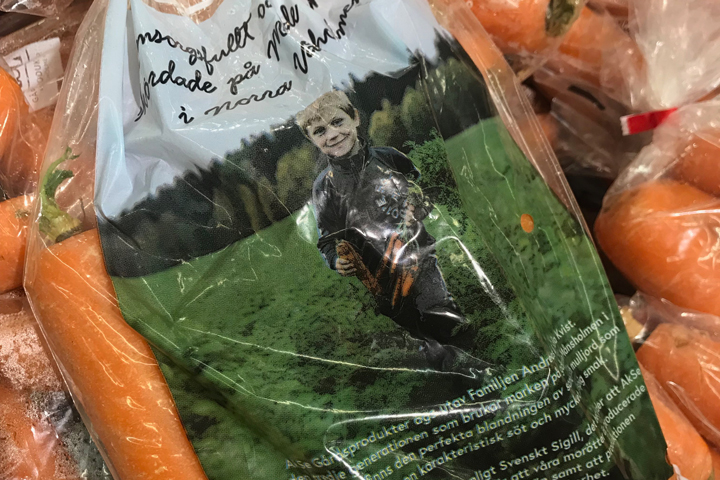 SMEs are often unable to deliver large quantities. This excludes some buyers, such as most institutional kitchens and processing companies.
In Belgium, REFRAME addressed this challenge by organising B2B Taste Markets. This enabled  food producers to connect with buyers demanding less volume, such as retail and restaurants.
"More than 100 local exhibitors participated in the B2B Taste Market, which took place twice, once in Kortrijk and once in Ghent. Almost all exhibitors indicated that they had made at least ten new contacts. Many of them even 20 or more," says Gaël Staelens, lecturer at VIVES University College and co-organiser of the event.
Get a taste of the Taste Market in this video (in Flemish):
Some REFRAME initiatives were a hit  during the Covid-19 lockdowns. For example, restaurants and cafés were closed in 2020 which posed great challenges to SMEs in the local food supply chains. In the Netherlands, the REFRAME-supported Lokaal Kilos Schuiven – an online marketplace for local farm products – took action.
Through REFRAME's Short Food Supply Chain Network, they teamed up with a like-minded organisation, de Streekboer. Together, they helped farmers provide a local food box straight to the consumers. The boxes sold 700 already in the first week. One financial institute even donated 100 food boxes for the Food Bank that helps people in poverty.
Image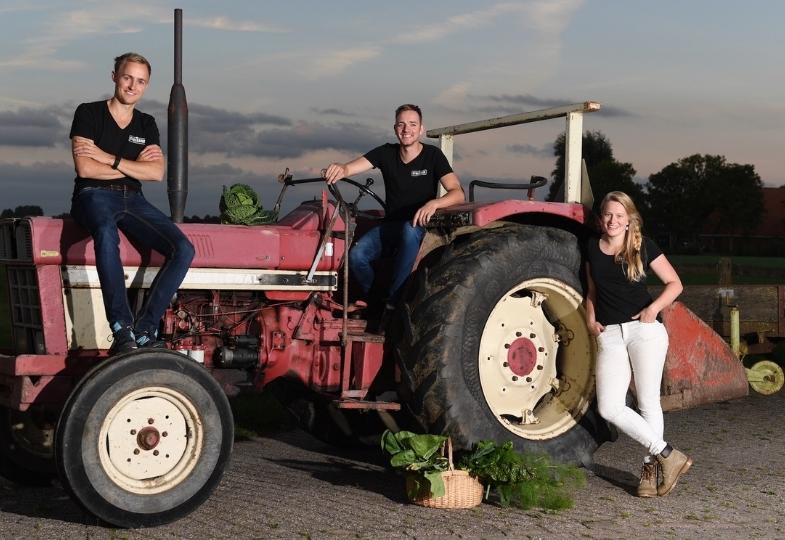 In the Netherlands, Area Cooperative Westerkwartier developed a monthly local food box. In West Sweden, Locally produced in West designed a box labelled 'Bygdens delikatesser' (delicacies from the village). The boxes had a turnover of €150,000 Euro. Based on the success, the concept is expected to be continued.
The Swedish small-scale sausage producer Agnetha Björnsdotter got the chance to sell her products as part of a local food box. In a podcast interview she said, "A year ago, I didn't know what to expect during the autumn and Christmas. That's the period where I earn the most money, but everything was closed down. Then I had the possibility to work with the REFRAME project and that changed a lot in how I work and sell my products. It has been very successful for me. I made an all-time high in sales last year. I didn't have a single sausage left, not even for my family!"
Listen to the full story below. REFRAME is featured from around 11:00.
Joint branding turned out to be a key tool in helping local SMEs promote and sell their products. REFRAME's work on branding of local products has resulted in the development of regional and local labels such as Dutch Cuisine and 100% West-Flemish.
In Denmark, the organisation Taste of Denmark worked on joint promotion and sale of local products. This included marketing of island products with terroir qualities.
To promote local food, the project helped increase the capacity of the entire supply chain, from farmers to buyers.
As part of this, REFRAME helped farmers to grow their land in a more sustainable way. For example, they worked with innovative small-scale farmers to develop sustainable products and farming methods. In the Groningen region, the partners helped farmers to support climate adaptation and biodiversity through their land use. Also, some farmers started producing food for the Food Bank, a social initiative. And REFRAME stimulated the first organic Groninger mustard as well as local hop production for local breweries. 
Another example is the production of salt-tolerant vegetables on five Danish islands. They did this to prepare for a future where coastal soils will become more saline due to global heating – a grave matter for farmers located in one of Denmark's 500+ islands.  
The project also provided inputs to policymakers and raised awareness of the benefits of local food frames among public buyers.
Inspired by the well-established Swedish "REKO-rings" concept, Belgian partners launched the concept "Order from the farmer". In this concept, consumers order products directly from farmer, who places the ordered products at designated pick-up points in the city.
Watch the video below to learn from consumers and others involved why they love this concept:
From REFRAME the message is clear: It is important to support rural, food-related SMEs because of their potential to provide employment, enhance sustainable food systems, and underpin thriving communities.
Through a diversity of support measures, REFRAME was able to help SMEs to increase their local sales. In the Municipality of Groningen alone, SMEs working with REFRAME increased their production of grains for local food by 800% between 2020 and 2021. Meanwhile, the local beer distilling capacity increased by 500%.
REFRAME delivered a wide range of solutions tailored to each location. The biggest benefit of working in a transnational project is the knowledge sharing that happens during pilot visits and on-site discussions.
Many activities and concepts initiated by REFRAME are here to stay. Indeed, a whopping 445 organisations had adopted new solutions at project end. The project built or strengthened frameworks and networks across the region. In the Groningen region, for example, REFRAME lives on in the municipalities' Food Agenda set up in March 2021. The agenda includes both activities and policy measures to achieve a healthy and sustainable food system for all citizens.
In summary, REFRAME reached far and wide. One of the many people who got inspired by the project was the young student Luise Empt. She produced what may have been the first-ever rap video for an Interreg project. And a good one, too. Enjoy watching!
Top 3 project highlights
Transforming the lives of small-scale producers
SMEs taking part in REFRAME skill-building and joint promotion increased their sales by 37% on average.
Investing in innovative and sustainable local food products
During the project, consumers and policymakers committed to more than
€2 million for new local food products.
A lasting impact
445 organisations adopted REFRAME solutions. Frameworks set up or supported by REFRAME are set to continue the work.
Curious to learn more? Get in touch with the REFRAME lead partner:
Project Manager Hiltje van der Wal, Municipality of Groningen, hiltje.van.der.wal@groningen.nl, +31 6 11313542
This article provided some appetizers, but REFRAME has much more to offer. From policy to skill-building for SMEs, the project produced a wealth of inspiring approaches to reframing local food. If you are interested in fostering local food trade, explore the project's popular Resource Centre to find many more inspiring ideas. It has received over 12,000 views so far!
To get the full flavour of the project, visit REFRAME's comprehensive website.
Laila Dam is a communication manager at Food & Bio Cluster Denmark, partner in REFRAME.