Back to top
Lead
This summer's devastating floods in Europe was a wake-up call to an emerging reality that was further accentuated in the latest IPCC report, released on August 9th. Nature-based solutions help reduce flood risk locally, but can they also provide added resilience against sweeping flood disasters? The North Sea project Building with Nature is part of a new study providing some insights.
Main content
The July 2021 floods in Germany, Belgium, and the Netherlands were surprisingly fierce. Although more frequent floods are in line with climate science, even the experts were shocked by the severity of these events. This and similar disasters across the globe demonstrate that climate change is causing more havoc than previously thought and that floods of the same scale will become more frequent in the future. The message in the latest report from the intergovernmental panel on climate change (IPCC) is crystal clear. There is an obvious need to build flood resilience now.
Image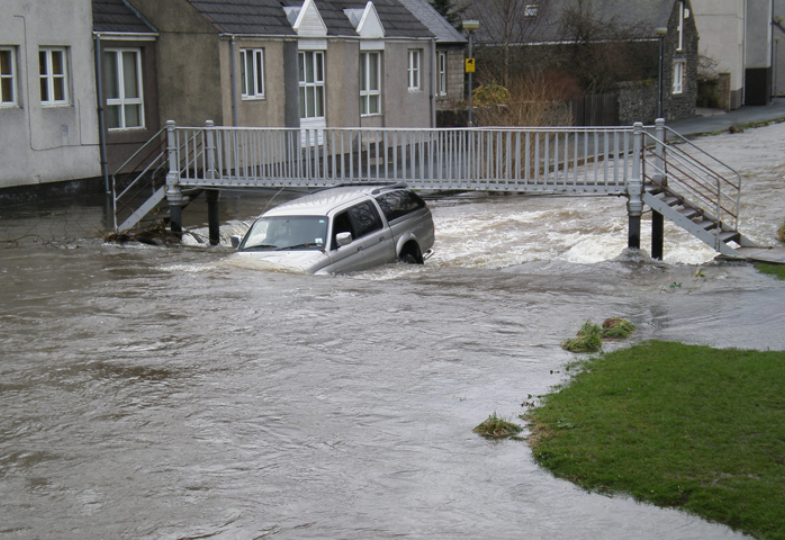 Building with Nature explores the use of nature-based solutions (NBS) to reduce flood risk. Natural landscape elements such as dunes and swales, winding rivers, swamps, and forests have a positive effect on flood risk in local areas. But to what extent might NBS also help reduce the level of floods affecting larger areas?
A new science paper published in the journal Water Security sheds light on the question. The study is based on data from two NBS trials in the UK that are co-funded by Interreg. One of these is a Building with Nature pilot, the Eddleston Water Project in Scotland.
Image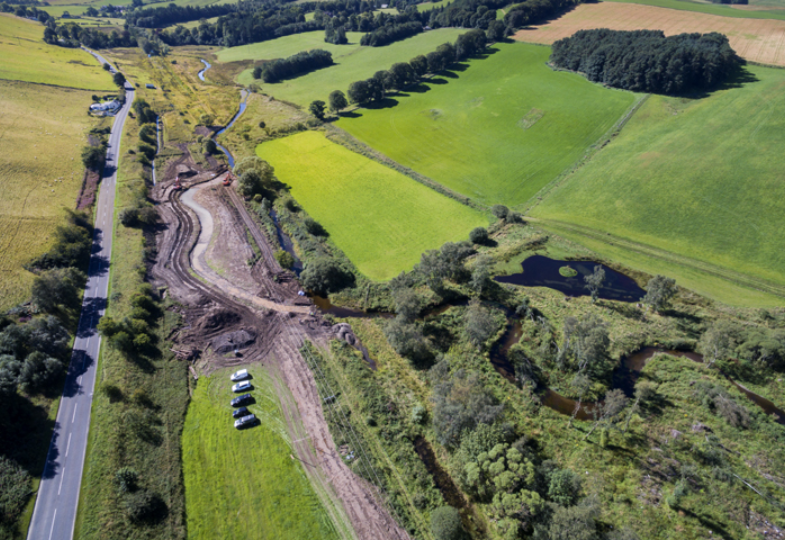 Co-author of the paper Chris Spray is Professor of Water Science and Policy at the University of Dundee, in Scotland. He explains that natural flood management is all about "slowing the flow" by diverting and temporarily storing 'excess' flood water. Tree planting, re-meandering of rivers, installing 'leaky dams' and log restrictors, creating temporary flood storage ponds, and more all come into the mix.
"Such measures have only been shown to work in small experimental catchment areas, and there is lack of evidence for their effectiveness over larger areas. In the paper, we looked at the combined effect of NBS measures across much larger land areas. Based on our very detailed research in the Eddleston catchment, we extend the findings into the bigger picture through modelling."
The scientists find that NBS-enriched landscapes do have the capacity to slow down powerful floods as they move down the river. This increase in the lagtime between heavy rain falling and river levels rising gives downstream communities precious time to respond to the imminent danger. In addition, the NBS measures will typically help reduce flood peaks by spreading the water across a larger area.
These effects of NBS are fairly modest, typically reducing flood damages by 5 to 10%. However, the positive effect will remain year on year. And this level of reduction remains constant, even under the most severe events. When you look at the long-term expected return on investment, NBS therefore generate significant value.  
Chris Spray explains that natural flood management works at all scales because of its expandable nature. Simply put, the floodplain can soak up and store a larger body of water during more severe events.
Image

Spray also stresses that NBS provide added benefits for biodiversity, water management, recreation, and carbon sequestration. Adding them all up, you get a lot for your money when investing in NBS.
"In Eddleston, we worked with just 20 farmers who voluntarily agreed to natural flood management measures being put in place on their lands," he explains. "This has led to an estimated £1 million in flood damages avoided, plus £4.4 million in other benefits as well."
Image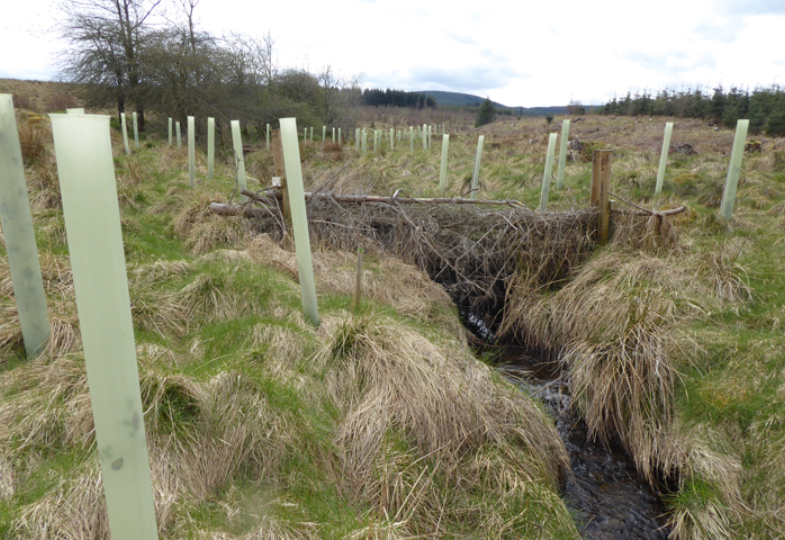 "In general, the nature-based approach is unlike building a big dam. It is far more complex and challenging, and it works very differently from traditional measures. Unlike NBS, dykes and embankments provide little added value and they do just one thing – protect us against floods. They do this very effectively, but only up to a certain point. We don't see such thresholds in natural flood management," he observes.
He adds that while the effect of NBS is large enough to matter, it is too modest to stand alone. Traditional measures are still needed to cope with floods. However, working alongside flood infrastructure, NBS will boost the overall resilience at all levels of flooding.
The message from the IPCC is clear. Climate change is "widespread, rapid, and infensifying". It is none too early to act and reduce the risk.
In summary, the study confirms that nature-based solutions have an obvious place in the flood defence toolbox. Not only do they work, they expand as the problem grows. And what's more, they help member states to reach other European top goals and strategies embedded in the EU Green Deal.
Learn more about the Eddleston Water Project and the principles behind natural flood management in this video:
In addition to Building with Nature, the following projects are also focused on nature-based solutions to global heating and the risk of flooding:
BEGIN: Focused on blue-green infrastructure in cities.
CANAPE: Focused on restoration and sustainable use of peatlands.
ABOUT THE AUTHOR
Sofie Forfang is a Communications Advisor at the Joint Secretariat of the North Sea Region Programme.