Back to top
Lead
If you aren't North Sea experienced yet, perhaps you should be. A survey among project partners shows there are lots of benefits to participating in a North Sea funded project. At the personal level, one experience tops them all. 
Main content
A total of 58 North Sea project partners joined a survey to share their experience from participating in our programme. And we were very happy to discover that the responses can be summarised in one word: Enthusiasm. The positive ratings and statements are heart-warming reminders of why cooperation really matters.
Over 72% already saw positive impacts in their own part of the North Sea Region, although many projects are still ongoing and producing outputs and results. 
Participants reported on a wide array of positive impacts in their region or country, ranging from achieving targets to additional investment. 
 
The COBEN project has helped us achieve the municipality's goals of becoming energy self-sufficient in 2024 and fossil-free in 2040. It has also contributed to Denmark's and Central Denmark Region's goal of 70 percent CO2 reduction in the period 1990-2030.
The project established the Netherlands' role as a frontrunner in underwater noise. Through the project we had real influence on decision-making at national and international level.
Image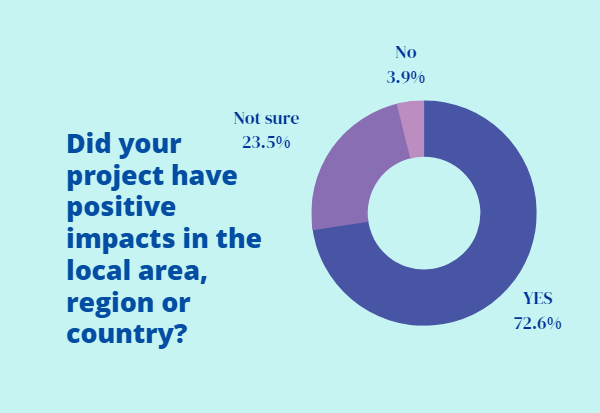 In Denmark, the Port of Vordingborg experienced significant benefits:
In 2023, the Port of Vordingborg is eight times bigger than when we joined the Dual Ports project in 2015. We wanted to be a green port and expand in a sustainable way. We have proved that is can be done by recycling of contaminated soil and residues. The carbon footprint is reduced by 20 % and the fourth port expansion that is in progress now is 100 % financed by use of recovered soil
In Flanders, the BITS project's spinoffs includes a new national cooperation and an initiative for developing a new EU standard.
 
An interprovincial group of all Flemish provinces now exists, coordinated by our province, and creates content now on bicycle related data, a dashboard with all bicycle counters, a website for all cycle highway. Also, the Belgian Road Research Center has applied for a Horizon project on an EU standard for cycle path quality. The original initiative for this started as a pilot in the BITS project.
More than 92% found the project had so far led to benefits for their organisation. These included international network (86%), in-house knowledge (78%), the chance to experiment and test new solutions (67%), gaining new partners beyond the project duration (65%), building organisational capacity (53%), and internal adoption of new solutions (41%).
Image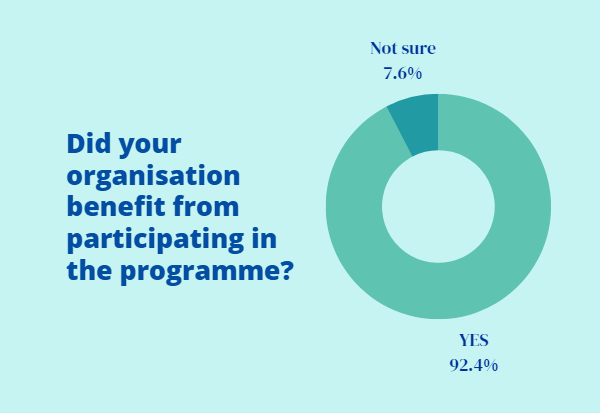 The integrated digital transformation approach developed in CORA project has delivered great proof points for many of our activities in Germany, supporting local and regional authorities to look at their transformation - not in an isolated way, but integrated!
These projects allow us to test and further develop projects in very new fields of work. The world of data science and blockchain is constantly evolving and it is difficult to keep track of all developments as a single organisation. It is very valuable to be involved in these projects and learn from other experiences.
More than 98% found their North Sea experience personally rewarding.
For example, over 90% found they had increased their professional networks and gained new knowledge.
Image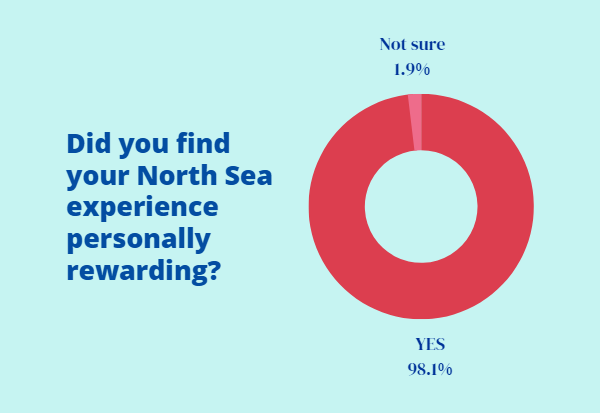 Other benefits included: Inspiration from working in a transnational setting (81%), a better cultural understanding of other North Sea Region countries (65%), ideas for new joint activities or projects (62%), improved personal skills (39%), and making new friends (35%).
More than 50% said the project had resulted in moments and memories that they will cherish.
The OESA project is unique in the way it has brought several skills together to accelerate technology developers. At a personal level, the insight into how so many stakeholders look at the same challenge has been very rewarding. 
When asked to identify their top experience, most people highlight the exchanges and interactions taking place within the partnership.
Partner meetings and visits to pilots are frequently mentioned. Another recurring point is the great willingness of partners to share their perspectives.   
 
The top experience has to be all the shared knowledge. The exchange of knowledge has created such an understanding and has broadened our knowledge about other countries' struggles and organisation.
Exceptional personal commitment of partners from different countries to work together.
We are thrilled to see such enthusiasm for partner exchange because that is, in essence, what defines transnational cooperation. The responses underscore the added value of cooperating across sectors as well as country borders to tackle common challenges.    
Image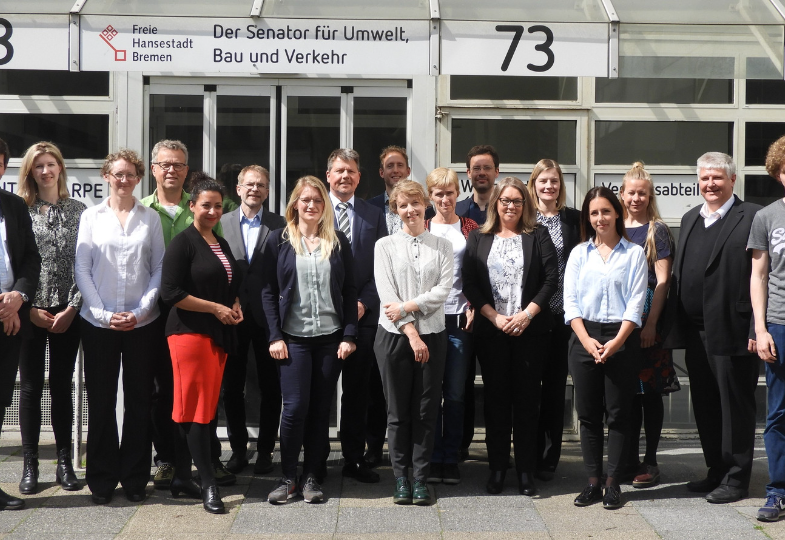 Also, several responses highlighted personal skills development and public performance as their top experience:
Demonstrating a new product concept for a blockchain app in front of an international audience.
The growth I went through. I started as an unexperienced project leader but managed to lead the project through several storms with a stunning result!
As the survey shows, there are many good reasons to get involved in our programme, on top of the financial support.
We are always on the lookout for excellent ideas to make the North Sea Region a better place. Please check out our funding priorities to find out more. You can post your project idea and find partners via our partner search.
Our next call for applications, Call 3, opens on 17  April. Learn more about this call in this article.  
Feel free to get in touch with one of our project advisors or your National Contact Point to discuss your ideas or ask a question. We are happy to help!
Image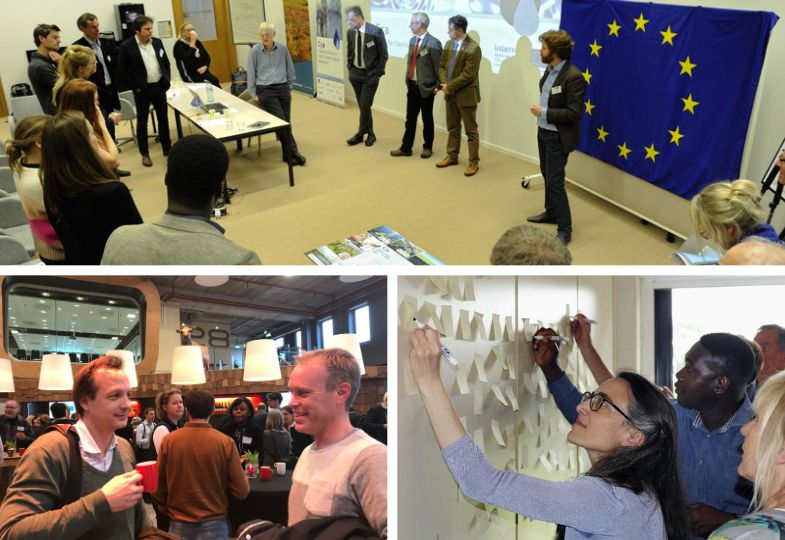 Sofie Forfang is a Communications Advisor at the Interreg North Sea Programme.